This ROM is based on official ZTE N880E MIUI. Funny thing is that N880E MIUI builds are based on the CM10 device sources that I've released, so thanks to me. ;)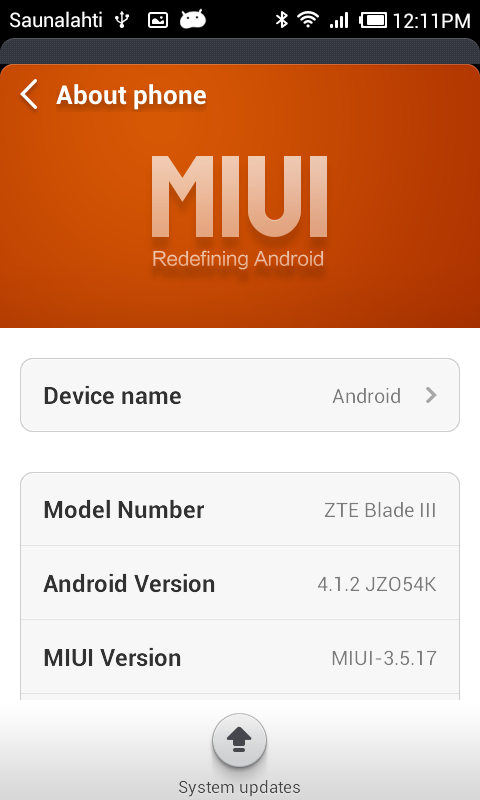 Do not mirror my builds! Please post a link to this page instead.
miui_atlas40_4.4.4_4.1.zip
https://www.androidfilehost.com/?fid=24591000424952069
md5:a5a46d1fae01efb3a84ed7a008f5219b
Changes to N880E version:
fixed wifi and bluetooth (N880E has Broadcom wifi/bt, we have Atheros/Qualcomm)
added Google Keyboard
added Play Store
removed Chinese MIUI apps
used Blade III CM10 kernel (source)
used Blade III proprietaries
Everything should work to CM10 standards except FM radio. Don't expect anything to be fixed (fix it yourself). I don't plan to use/support this ROM. It was just something I played around with for couple of hours. I just thought I'd share it because it's been requested several times and it seems to work well enough.
---
How to install:
boot into ClockWorkMod recovery
mounts and storage -> format system
wipe data and factory reset
install zip from sdcard -> choose zip from sdcard -> miui_atlas40_x.x.x_4.1.zip
reboot
How to port:
I wrote a simple tool for porting from N880E. You'll need a linux system with few basic packages installed (git, java, zip). Place an official N880E MIUI ROM to the root of the porting tool directory (place_rom_here) and run the tool.
miui-porting-atlas40.tar.gz
https://www.androidfilehost.com/?fid=24591000424952068
---
MIUI changes not mentioned in the changelog. See MIUI changelog.
4.4. changelog:
MIUI 4.4.4
added support for emulated internal sdcard
updated Play Store and Google Keyboard to the latest versions
disabled MIUI updater
13.8. changelog:
MIUI 3.8.9
updated to latest CM10 kernel
9.6 changelog:
MIUI 3.6.7
included Google Keyboard instead of CM10 LatinIME
removed Chinese MIUI apps
fixed soft reboot after PIN input
3.6. changelog:
MIUI 3.5.31
updated Play Store (4.1.10)
21.5. changelog:
MIUI 3.5.17
initial release
---